Giving Day Events
If you're not hosting your own event there are plenty of things happening around the region that you and your colleagues can get involved in:
City Cycle Challenge
Assemble your team and get ready to take on other local organisations to see who has the legs to be our corporate cycling champions!

Teams (max. of 5 people) will compete in a thrilling 40-minute race, with time divided equally among team members (e.g. 8-minute slots for a team of 5). Each person will need to pedal as fast as they possibly can to help their team become our cycling champions.

This event will take place simultaneously at two venues. Sign up here for Millenium Point and Wolverhampton Technology Centre.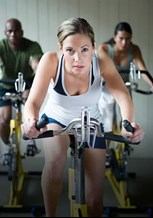 City Quest 
Expect challenges, clues and a city centre adventure.

Teams (max 5 people) will need to crack the clues to find their next location and complete challenges, in order to progress.

This event is organised by LoveBrum who are asking each team to pay £25 entry fee and fundraise a minimum of £50, which will help the charity to continue work, funding hidden projects across our great city, that need their help.
Time: Arrival 11.30am, City Quest to begin at 12pm! 
Where: Jewellery Quarter
To sign up and for more information click here.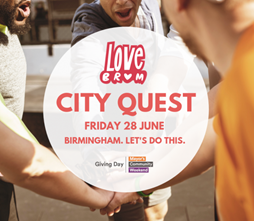 West Midlands Giving Day Masterclass
As part of the West Midlands Giving Day, various experts in their field have come together to volunteer their time and provide a free seminar for the third sector.
Designed to help charities, community groups and other voluntary organisations this seminar will provide an insight into some of the key determinants of success.
This event will be taking place at the REP Theatre, you can register your place for free here.
Llyods Bank Digital KnowHow Session (Birmingham)
Lloyds Banking Group in partnership with West Midlands Combined Authority and as part of the West Midlands Giving Day are proud to host an event centered on driving the digital adoption, skills and understanding of small businesses and charities across the UK.
We would be delighted if you could join us for an interactive and collaborative session, where we will be looking to not only highlight the benefits of digital adoption, but also to provide digital skills via our partners @ Google.
This event will be taking place at the REP Theatre, you can register your place for free here.
Professional Services Week
Professional Services Week is a campaign to demystify the professional services sector for the regions secondary school children.

The week comprises a series of activities for schools including Business Walks (a series of workplace visits on one day), as well as Sector Insight Days and Pathways to Professional Services. They need your help however, to really tell the story of what you do and to help inspire the next generation to consider careers in the sector.

If you can host a visit during the week, if you can provide any other support or if you'd like to find out more then please email enquiries@professionalservicesweek.co.uk. The campaign has been running for three years and so the impact they create has been proven. This year the campaign is extending from Birmingham into Coventry & Warwickshire and Solihull and so they need more help than ever!