Ambitious plan launched to retrofit 50,000 homes across the West Midlands
Published: Monday 06 Jul 2020
The West Midlands Combined Authority (WMCA) has today (6 July) set out ambitious plans to retrofit 50,000 homes across the West Midlands by the end of 2022 to help tackle fuel poverty.
Watch WMCA video about retrofit on YouTube
As part of the region's £3.2 billion investment blueprint submitted to Government, the WMCA is hoping to secure £50 million to embark on its retrofitting programme. Currently the West Midlands has the highest fuel poverty gap in the UK due to the high average age of local housing stock.
The retrofit programme would target older homes that have low energy efficiency and cause households to pay far too much on their energy bills. Work would include insulating walls and double or triple glazing window panes.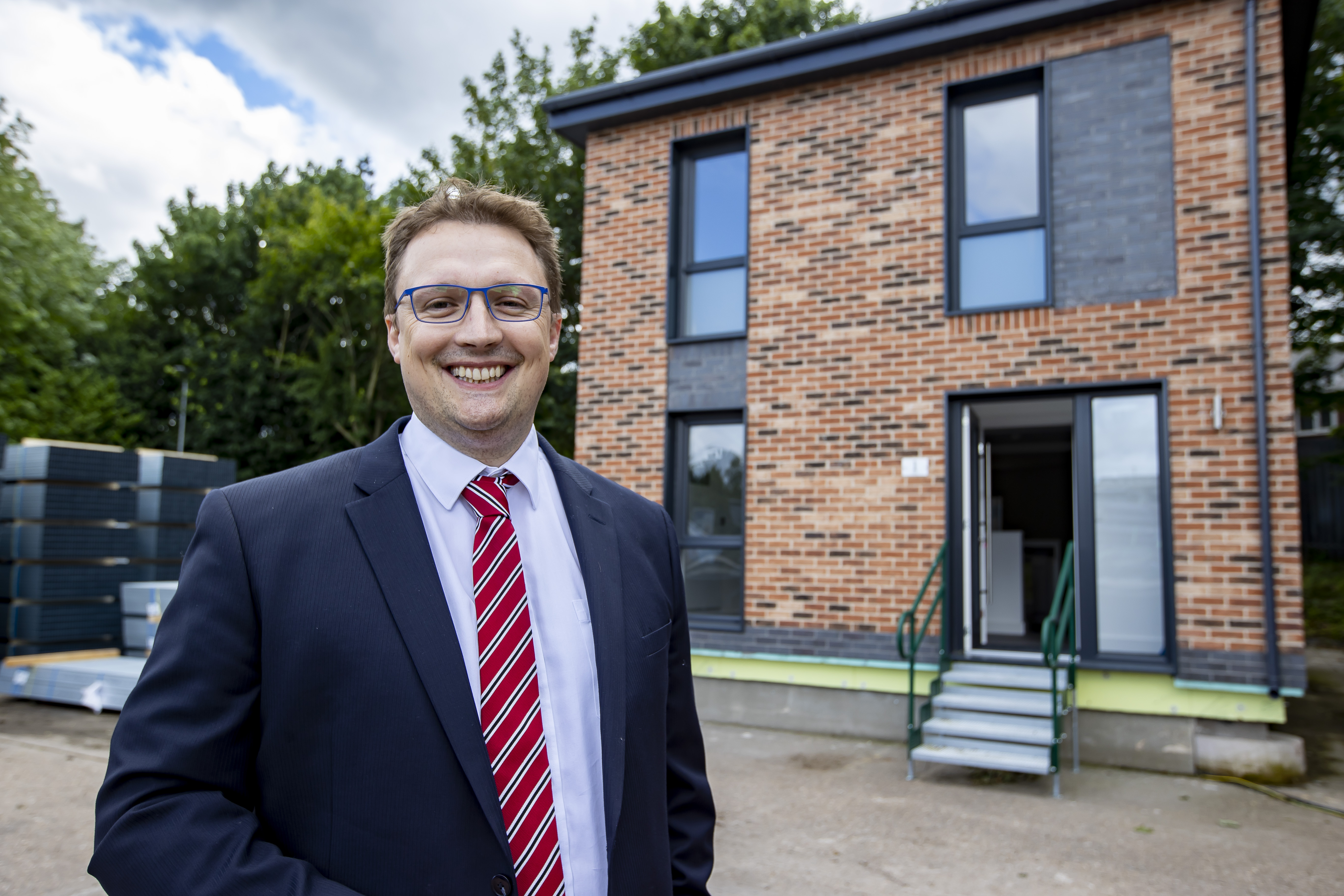 Ben Towe, Managing Director of Hadley Group
Retrofitting forms part of the WMCA's #WM2041 programme, which sets out how the West Midlands aims to become carbon neutral no later than 2041 was approved by the Combined Authority last month.
Andy Street, the Mayor of the West Midlands, said: The WMCA remains utterly committed to tackling the region's climate emergency, and addressing fuel poverty is a key part of our plans. We have too many old homes in the region that are poorly insulated, leading to high energy bills.
By addressing this not only we will be helping households out of fuel poverty at such a difficult economic time for many, but we will also be taking a strong step towards our goal of carbon neutrality by 2041
The Mayor launched the plan alongside Councillor Ian Courts, the leader of Solihull Council and WMCA portfolio holder for the environment, on a visit to Sandwell. The pair travelled to Smethwick to view the site of an extended factory being built by the Hadley Group. Due to open in December, it will produce steel building elements which are more environmentally friendly than traditional ones, and will have a role to play in retrofitting. These components will be assembled in the factory and dropped into place on site making home construction quicker and more efficient. On site they viewed an example of a house built for housing provider WHG using these elements. By using this method of construction local companies in the supply chain, like parts supplier and assembly engineer Hadley Group, will benefit from an increased demand for their goods and services.
Ben Towe, Managing Director of Hadley Group said: We're a West Midlands based business and we support WMCA's call for more and improved housing which will provide multiple benefits to the region.
We specialise in cold roll forming steel and through market leading innovation we have designed a scalable manufacturing process to deliver retrofit housing products and 'green' high quality homes. Through the expansion of our company we look forward to playing a part in the recovery of the West Midlands
As well having a positive environmental impact, modern methods of construction will also contribute to local employment and training, benefiting those whose jobs in traditional industries such are automotive and aerospace may be at risk. The Combined Authority estimates that the proposed retrofit scale-up and supply chain development will create 20,000 new jobs and secure 5,000 more.
Cllr Courts said: Support for local companies to manufacture and develop cutting-edge, energy efficient construction components and build up their supply chains is key to helping the industries of tomorrow grow. It's vital to providing decent, future-proofed, skilled jobs for the West Midlands.
Just as important using these new technologies will allow us to bring thousands of homes up to the latest energy standards and make a major contribution in the fight against climate change and fuel poverty
Contact the Media Team