Charter launched to champion good design in the West Midlands
Published: Thursday 23 Jan 2020
A pioneering initiative to promote, inspire and encourage good design across the West Midlands was officially launched today (Thursday Jan 23).
Some of the UK's leading design experts gathered at Birmingham's Mailbox complex to endorse the new West Midlands Design Charter which has been developed by the West Midlands Combined Authority (WMCA) in partnership with the region's local councils.
Building on the West Midlands' heritage and proud legacy for iconic design and creativity, the Charter sets out to secure high-quality design in housing, civic architecture, urban spaces, parks and transport infrastructure.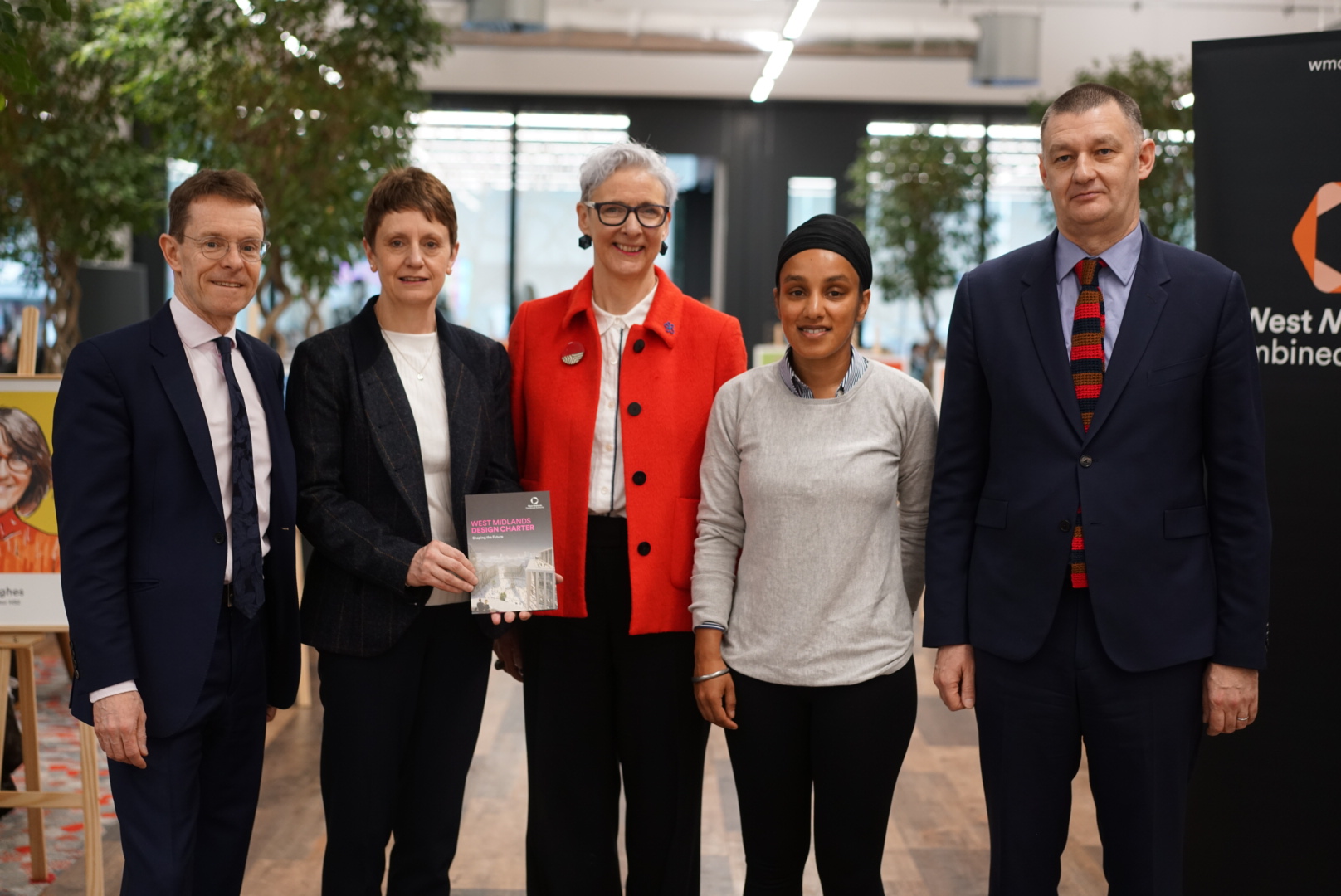 From left: Mayor of the West Midlands Andy Street, Jane Findlay, President Elect Landscape Institute, Sarah Weir CEO Design Council, Immy Kaur founder of Civic Square and Nick Walkley, chief executive of Homes England
It will also serve as a springboard to grow a range of key design sectors such as digital media, graphic design and creative industries including advertising and screen (film, TV and games).
In supporting the region's wider design sector, it is also intended to drive investment and inclusive economic growth while combating global warming by promoting low carbon, energy efficient and climate resilient design.
Launching the Charter, Mayor of the West Midlands Andy Street, said: Great design and creativity can have a huge and positive impact on the quality of life and wellbeing of our communities.
But this Charter is not just about raising the quality of the homes, places, buildings and natural environment around us. It's also about championing and promoting our design sector, helping to drive our regional economy and new jobs.
We already have a flourishing design sector, which has produced iconic designs over the years - from the Mini and E-Type Jaguar to cutting-edge buildings like Selfridges and the Library of Birmingham. We also have world-beating designers working in our jewellery and games industries.
This Charter will build on that existing talent and seek to take it to the next level, helping to establish the West Midlands as the UK design capital
The Mayor said the Charter made clear that the West Midlands was committed as a region to driving design innovation and creativity based on six key themes:
Character
Connectivity and Mobility
Future Readiness
Health and Wellbeing
Engagement and Stewardship
Delivery
Research from the Design Council found that the West Midlands has a strong design industry with a focus on industrial, product and craft design. Figures showed that the sector had seen a bigger growth than any other region outside London, increasing by 83% between 2010 and 2017 and contributing around £503m a year to the local economy.
The Charter's six themes and 12 principles have been developed in close collaboration with the WMCA's members which include 18 local authorities and three Local Enterprise Partnerships.
It will provide an extra tool for local planning authorities to secure good urban design and high quality development. Stratford District Council has already adopted the 12 principles as planning policy.
It will also be used as a guidance document for developments funded through the WMCA's Single Commissioning Framework - a funding pot of several hundred million pounds. Much of this funding is being channelled at housing and commercial schemes on the region's former industrial (brownfield) sites, helping to relieve pressure on the Green Belt.
Cllr Mike Bird, WMCA portfolio lead for housing and land and leader of Walsall Council, added: We want this Charter to cement and grow our reputation as a region that promotes and supports great design and innovation.
We believe we are the creative heartland of the country with the fastest growing regional economy outside London and the design sector is an increasingly important part of that.
This Charter will also help guide us in securing good design in those schemes we choose to fund because they can deliver the opportunity of a decent, affordable home and a worthwhile job for all our communities. That's important because inclusive growth is at the core of all our investment and development activity
The Charter is being backed by Homes England, the Design Council and Landscape Institute.
Homes England chief executive Nick Walkley, who chaired a discussion panel at the launch event, said: To Homes England, collaboration is key if we are to challenge traditional norms and not only accelerate house building, but ensure new homes are of the highest quality.
This new charter marks a key moment for partners across the West Midlands region, and paves the way for similar approaches nationwide. I look forward to it being the springboard for making more innovative schemes and well-designed homes happen
Sarah Weir, CEO, Design Council, added: We are delighted to see the West Midlands taking such a bold lead on ensuring that design is central to all their planning, public services and economic prosperity. We are looking to working with them to deliver this work to make life better by design
Dan Cook, CEO, Landscape Institute (LI), said: The LI congratulates the WMCA for showing leadership by creating a new design charter for its region.
The LI endorses the authority's approach to placemaking in the Charter to support well-designed, climate-resilient, healthy places that respond to local character and culture.
It is vital that places contain green (and blue) spaces and trees, promote connectivity and have been designed with sustainability in mind. We also welcome the innovative approach from WMCA that starts to consider social value and pays due attention to longer term management and stewardship of landscapes, places and parks too
Well-designed housing and good urban design have been proved to have a positive impact on the wellbeing of communities.
In 2020 the WMCA is supporting the national Housing Design Awards and seeking exemplar West Midlands projects while seeking to promote local designers on a national and international stage.
The Charter is also being backed by developer Lovell Partnerships who signed a deal with the WMCA last year to work together to deliver 4,000 new homes across the region.
Contact the Media Team