Prospectus sets out £20 billion of investment opportunities across the West Midlands
Published: Thursday 25 May 2023
UK and international investors and developers have been presented with £20 billion worth of opportunities to invest in a diverse range of housing, commercial, regeneration and infrastructure projects across the West Midlands.
Building on success of previous years, the West Midlands Investment Prospectus 2023 showcases the profile and prestige of investable opportunities across the region.
This includes 29 schemes covering world-leading sectors, transformational infrastructure and exceptional development opportunities within the metropolitan West Midlands and surrounding towns.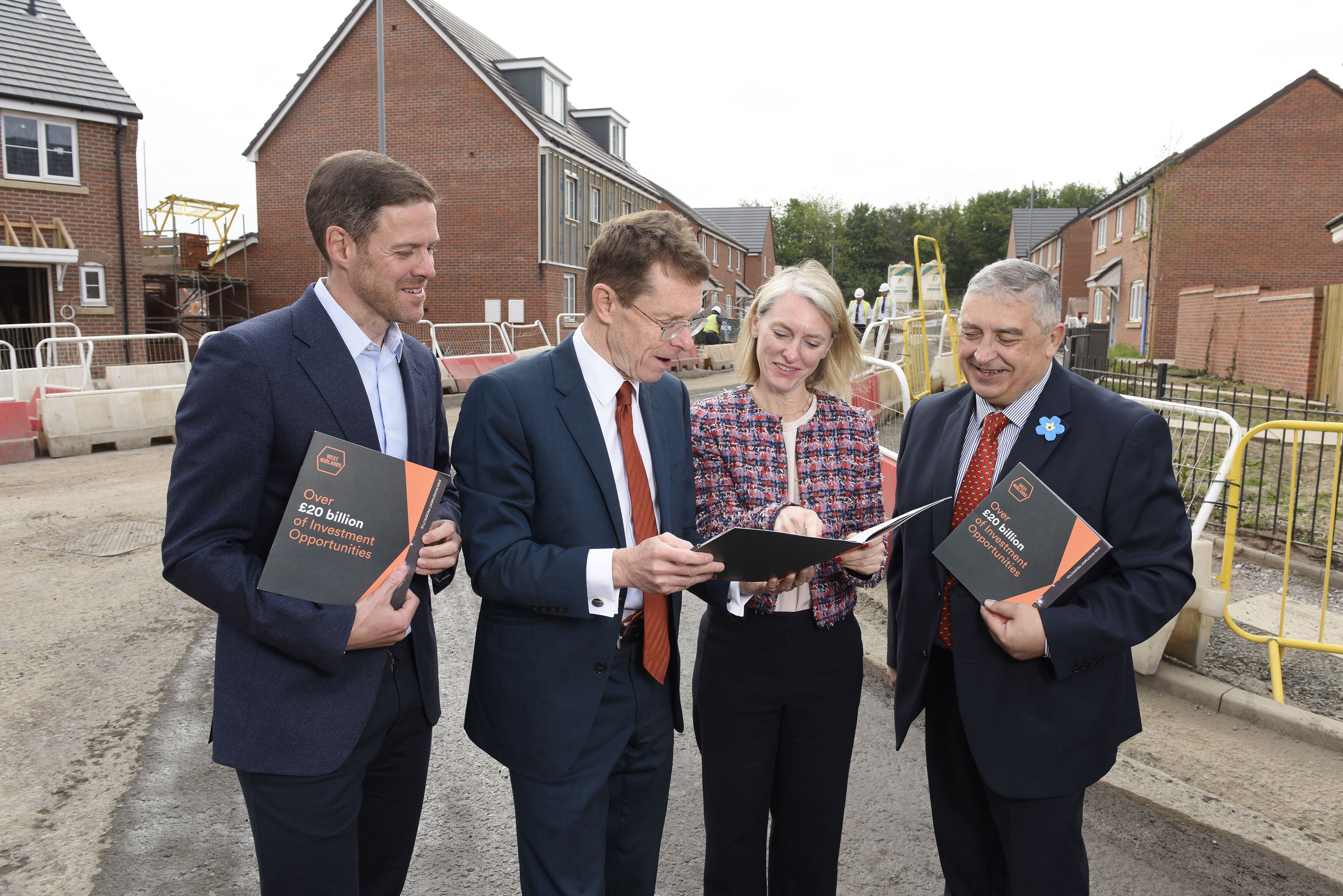 The opportunities set out in the prospectus have been identified in partnership with local authorities across the WMCA and reflect the ambition of leaders to level up the region's cities and towns.
The prospectus offers investors and developers the chance to breathe new life into local communities and deliver transformational growth, putting private and public sector partnerships at the heart of the WMCA's ambition to become a more prosperous and better-connected region.
Schemes listed within the prospectus include the large scale regeneration of town and city centres diversifying what they can offer by introducing more leisure, office and residential development, including affordable housing to help local people secure good quality homes for rent or purchase.
Town and city centre schemes include:
Coventry City Centre Cultural Gateway
Creative Quarter Royal Leamington Spa
Interchange Commercial District Wolverhampton
Paradise Birmingham
Rugby Town Centre
Shrewsbury Riverside
Solihull Town Centre including Eastgate
Telford Town Centre Living Cluster
Transforming Nuneaton
Walsall Town Centre
West Bromwich Town Centre
During a visit to The Junction – a new housing development on the site of a derelict foundry on the outskirts of Oldbury town centre, Andy Street, Mayor of the West Midlands, said the prospectus offered investors an exciting opportunity to work with the WMCA and local councils to help drive transformational change across the region.
He said The Junction was a prime example of the private and public sector working together for the benefit of local people, helping to provide new homes and jobs while supporting the region's transition to net zero.
The Junction site, which had laid empty for over 20 years, is being transformed by the WMCA and two of its strategic partners – L&G Affordable Homes and Lovell Partnerships.
Of the 234 energy efficient new homes, nearly half are classed as affordable under the WMCA's own unique definition which is linked to real-world local incomes rather than surrounding property prices.
The scheme is also the first in a £4bn pipeline of investments that L&G is making across the region over the next eight years as part of its commitment as a WMCA strategic partner.
The Mayor said: "More and more major national and indeed global players are recognising the investment opportunities on offer here in our region - including both L&G and Lovell.
"With a young, skilled and diverse workforce, internationally renowned higher education institutions, and outstanding connectivity - set to be bolstered in the coming years by the arrival of HS2 - our economy is well placed to prosper in the months and years ahead.
"This Investment Prospectus comes on the back of last summer's hugely successful Commonwealth Games as well as the new Deeper Devolution Deal this March where we secured £1.5 billion of new funding from the Government - alongside a significant tranche of new powers covering housing & regeneration, transport and skills, giving us even more levers to deliver for local people and our partners in the private sector."
Cllr Mike Bird, WMCA portfolio holder for housing and land and leader of Walsall Council, added: "With a combined investment value of over £20 billion, this Investment Prospectus sets out the profile and prestige of opportunities which reflect our ongoing mission to further improve people's skills and quality of life, support our world beating sectors to drive productivity and innovation and deliver our nationally leading brownfield regeneration programme at scale and pace.
"The prospectus also underpins our drive to provide the affordable, high-quality homes of the future and the modern, low carbon workspaces that local people and businesses need to prosper.
"So we want to hear from investors and developers who share our vision of a better connected, more prosperous, fairer, greener and healthier West Midlands.
"The WMCA, our local authorities and other partners stand ready and willing to work collaboratively with like-minded investors to bring forward these exciting projects and help drive our region's success."
Schemes featured in the prospectus in previous years have been highly successful in attracting investment.
Work has commenced on all sites featured in the 2018 prospectus, which included landmark projects such as Friargate in Coventry and the UK Central Hub and HS2 Interchange project in Solihull, with many of them now built.
Anette Simpson, Director of Development & Partnerships at Legal & General, said: "We are delighted to be working with the WMCA and Lovell to bring forward affordable, highly energy efficient homes to the area at The Junction in our first investment as part of our wider £4bn partnership.
"This Investment Prospectus shows what an attractive destination for investment the West Midlands is; our role in this is to put UK funds including pension savings to work here – creating a virtuous circle where UK savers benefit from UK prosperity.
"WMCA under Andy's leadership is an ambitious and forward-thinking partner and we have no doubt our work together will deliver strong economic and social results for the region."
Stuart Penn, regional managing director at Lovell, added: "The prospectus outlined by the WMCA showcases the extent of the investment opportunities for housing within the region. We have worked with the WMCA on a number of significant schemes already, bringing brownfield sites, such as The Junction, back into economic use and delivering high-quality, affordable homes.
"We are committed to continuing to unlock homes that respond to local need by developing multigenerational, mixed tenure housing through our strong public and private sector partnerships."
Contact the Media Team