Tram named after Birmingham City Council's first female leader to mark International Women's Day
Published: Wednesday 08 Mar 2023
A West Midlands Metro tram was today (Wednesday) named after the late Theresa Stewart, who was during the 1990s the first and so far only woman to lead the UK's largest local authority.
It is the second time a tram on the Birmingham to Wolverhampton line has been named in her honour – the earlier model was retired from service in 2015 when the fleet was renewed and has since been scrapped.
During a long and distinguished career in local politics Theresa Stewart led Birmingham City Council from 1993 to 1999 and was also the Lord Mayor of Birmingham for the year 2000-2001. She died in 2020.
She was also a member of Transport for West Midlands (TfWMs) predecessor organisation the Passenger Transport Authority and played a crucial role in lobbying Government for funding for the West Midlands Metro line during the 1990s.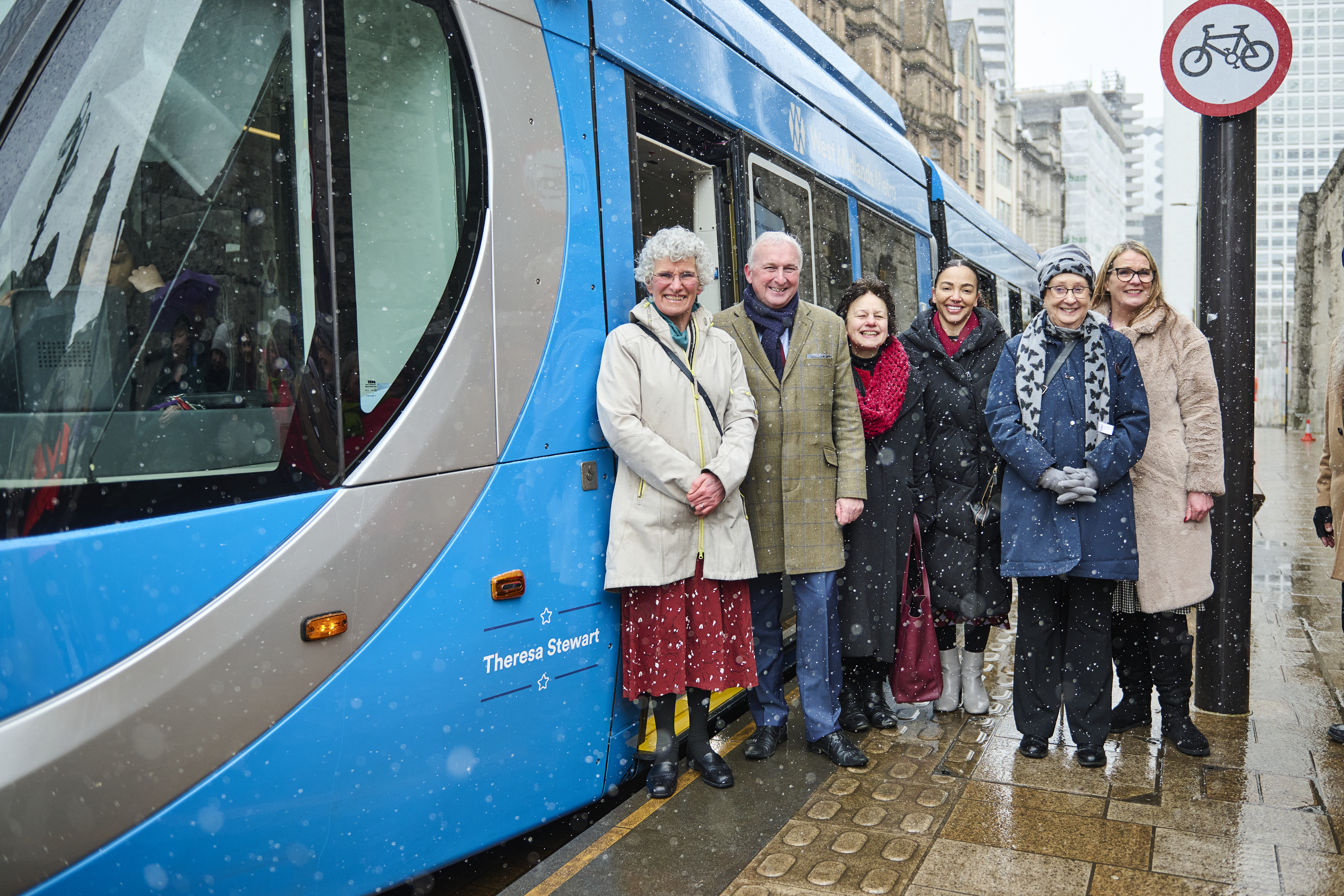 Now one of the new Urbos 100 Metro trams bears Theresa Stewart's name following a request of Birmingham City Council's current leader Cllr Ian Ward. The official naming ceremony was timed to coincide with International Women's Day.
Theresa Stewart was a great advocate and campaigner for women's equality and representation – including founding the Birmingham Pregnancy Advisory Service to support women.
Her proud daughters Selina and Lindsey unveiled the tram naming with their husbands Philip Hunt and James Wells along with their children and grandchildren.
Selina, speaking on behalf of her family, said: "We are delighted that Transport for West Midlands is naming a tram for Mum. This honours the commitment she always had to public transport as a politician and also as an individual. She used public transport all of her life as neither she nor our Dad had a car and she appreciated how important buses, tram and trains are for people in general but particularly for women and children."
Midland Metro Ltd, which operates the West Midlands Metro, is owned by the West Midlands Combined Authority (WMCA).
Cllr Ward, who is also WMCA portfolio lead for transport, said: "Theresa Stewart left behind a wonderful legacy in Birmingham, having dedicated her life to public service.
"I am delighted that Birmingham will now have a tram bearing her name, and that her legacy will continue in this unique way. To be announcing this on International Women's Day is fitting, as Theresa was a trailblazer who worked tirelessly to improve the lives of women in Birmingham."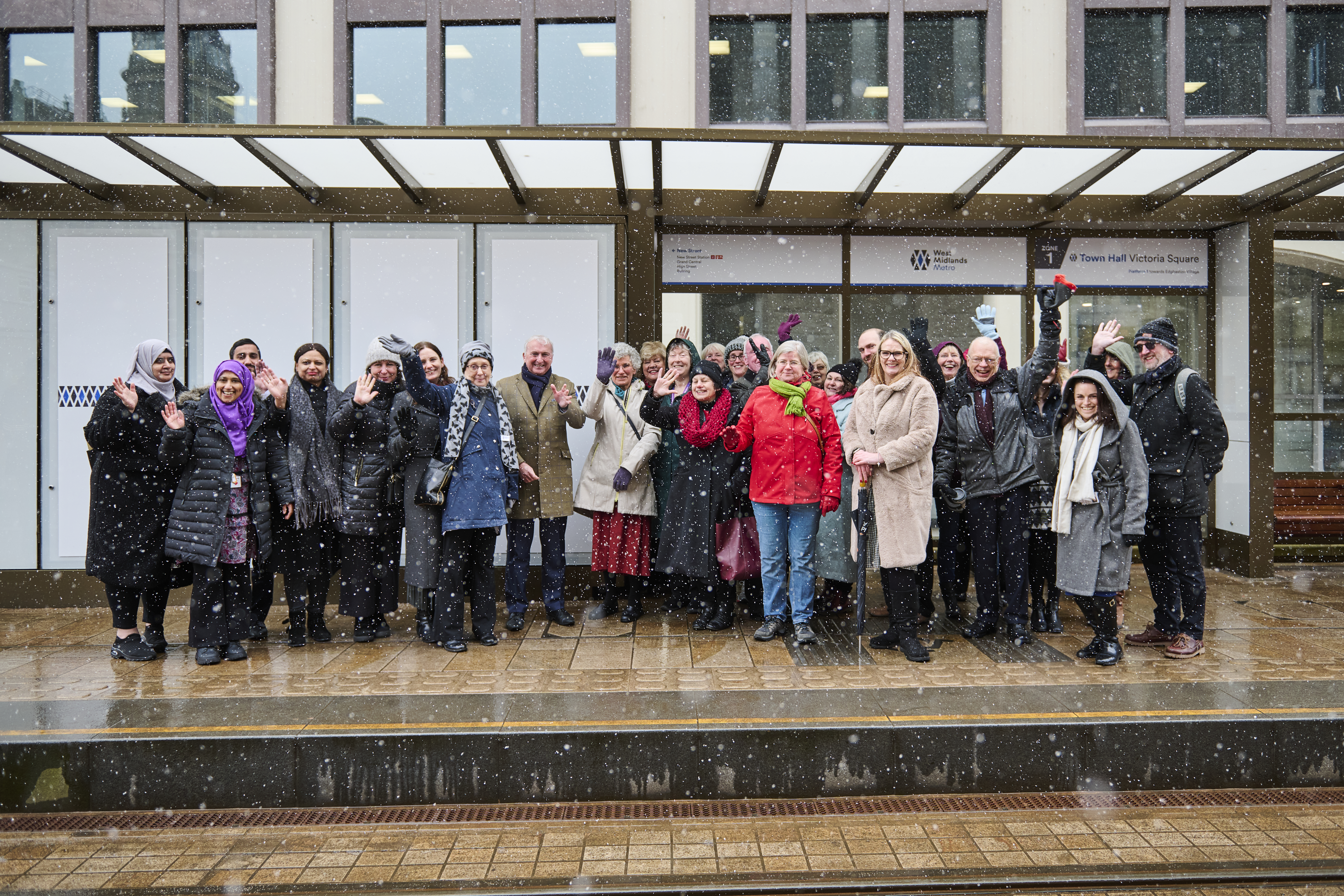 The naming of a tram after such a well-respected equality campaigner on International Women's Day has also been welcomed by Anne Shaw, executive director of Transport for West Midlands, and Sophie Allison, the first woman to lead West Midlands Metro.
Sophie said: "Light rail is traditionally a male-dominated sector, but it now offers a wealth of career opportunities for women, and many are already enjoying success in very senior roles. In our own team we have women represented in all departments, and they come from a diverse mix of backgrounds."
Theresa Stewart follows the likes of comedian Jasper Carrott, rocker Ozzy Osborne and footballer Cyrille Regis in having a West Midlands Metro tram named after them. Renowned Black Country based developers Roy and Don Richardson joined the list last week.
The people of the West Midlands will be given the chance to help pick the next person to be given the honour.
Contact the Media Team