West Midlands Cycle Hire hailed a success in Birmingham with almost 500 rides taken each day
Published: Monday 07 Jun 2021
People have taken almost 500 rides a day on West Midlands Cycle Hire bikes following their launch in central Birmingham last month.
A total of 43 docks and more than 300 bikes were launched on the streets on Monday, 24th May and in the first 14 days 6,926 journeys were taken with users covering a combined distance of more than 23,000 kilometres.
Many took the opportunities offered by sunny weather and school half-term holiday to give the distinctive grey and green bikes a go, with daily rides in Birmingham peaking at 714 on Saturday, June 5.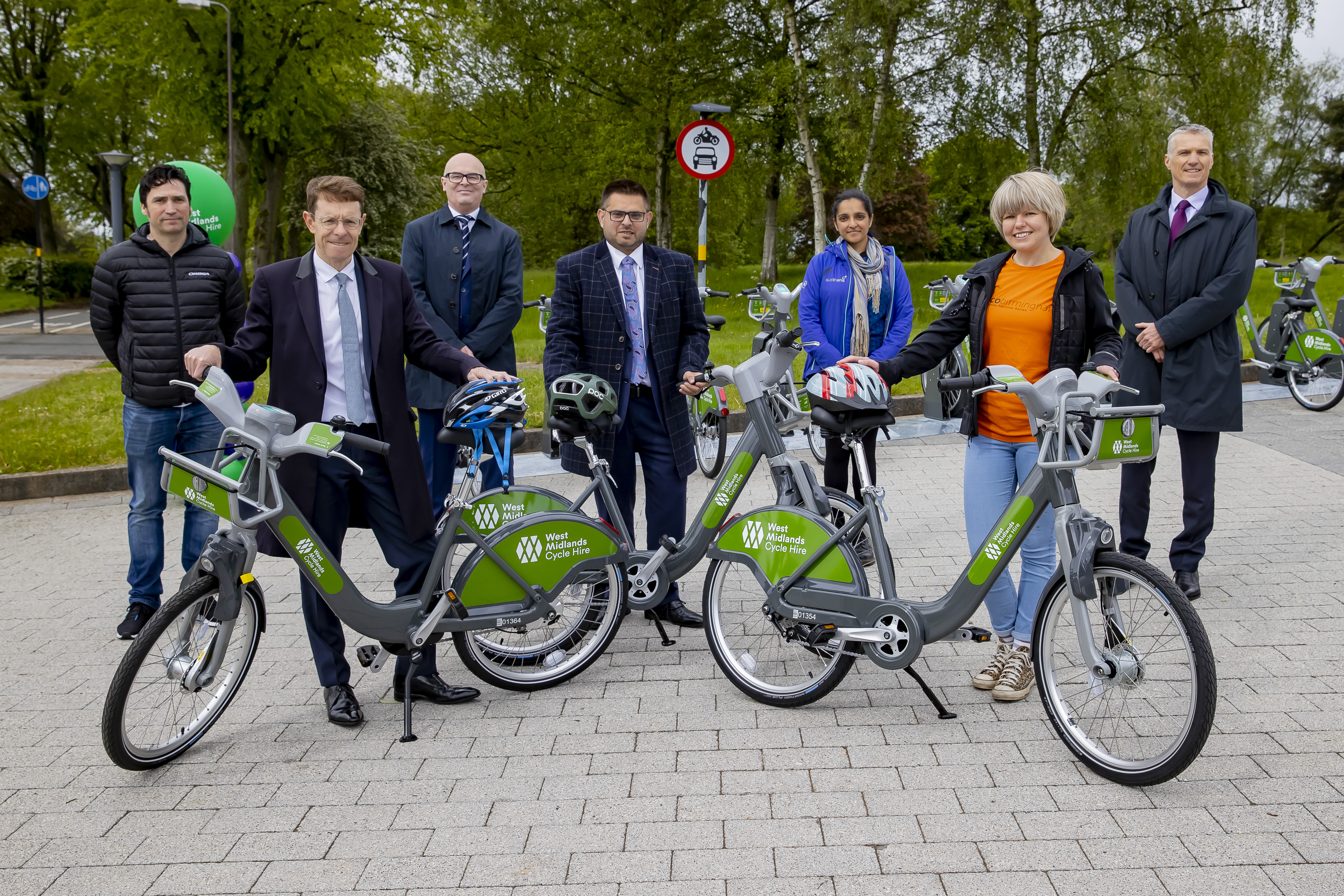 From left: Birmingham Cycling Mayor Chris Coyle, Mayor of the West Midlands Andy Street, Serco's leisure business managing director Simon Bailey, Birmingham City Council's cabinet member for transport and environment Waseem Zaffar, Ridhi Kalaria, partnership manager for Sustrans, Lisa Jones, eco Birmingham and Vice Principal of the University of Birmingham Professor Tim Jones.
Transport for West Midlands (TfWM), which is part of the West Midlands Combined Authority (WMCA), has now launched cycle hire in seven locations with almost 1,000 cycles available for hire in Birmingham, Coventry, Solihull, Stourbridge, Sutton Coldfield, Walsall and Wolverhampton.
Sandwell is due to join the scheme later this month and a further 35 docking stations are due to be installed in central Birmingham in July.
Latest figures show that across the region more than 22,000 users have covered almost 150,000km on the new bikes.
Andy Street, Mayor of the West Midlands, said: West Midlands Cycle Hire has hit the ground running in Birmingham and indeed across the region where we have seen riders clocking up 150,000km.
That's people getting out and about having fun while travelling in a sustainable and healthy way. As well as enjoying the sunny weather and the region's parks and open spaces, I am delighted to see that a growing number of people are using the bikes as part of a commute across our town and city centres.
We are so far exceeding our early expectations and if the trend continues will be looking to grow the scheme with more docks, more bikes and more locations
Across the region since launch in March:
Users have made 46,000 journeys, clocking up almost 150,000km

The average ride lasts 37 minutes, covering 3.26km

More than 22,000 people have tried the bikes
Cllr Ian Ward, WMCA portfolio lead for transport and leader of Birmingham City Council, said: Cycle Hire has made it possible for more people to take a bike for ride without facing the barrier of buying their own bike or needing the space at home to store one. So it is great to see so many people using and enjoying them already.
But this is just one part of the £40 million investment TfWM and partner councils are making in cycling and walking facilities, including in the Starley Network of safe cycle routes.
If we can replace shorter car journeys with cycling and walking we can make real progress in achieving our air quality and climate change targets as well as improving the health of the region
Spending on cycling and walking in the West Midlands has reached £10 per head for the first time setting the region on the road to achieve the target of increasing cycling to reach 5% of all trips taken by 2023.
To sign up or find out more visit the West Midlands Cycle Hire website.
Contact the Media Team