WMCA named as global leader in the fight against climate change
Published: Thursday 17 Nov 2022
The West Midlands Combined Authority (WMCA) was today (Thursday Nov 17) recognised alongside 121 cities across the globe for its bold leadership on environmental action and transparency, despite the pressures of a challenging global economic situation.
Environmental impact experts at the Carbon Disclosure Project (CDP) have named the WMCA on their annual 'A List', which is reserved for those who are building momentum in flighting climate change, taking twice as many measures as other city regions.
Only 12% of the 1,002 cities looked at by CDP made it on to this year's A List, with the WMCA moving into the top tier after being awarded a B last year.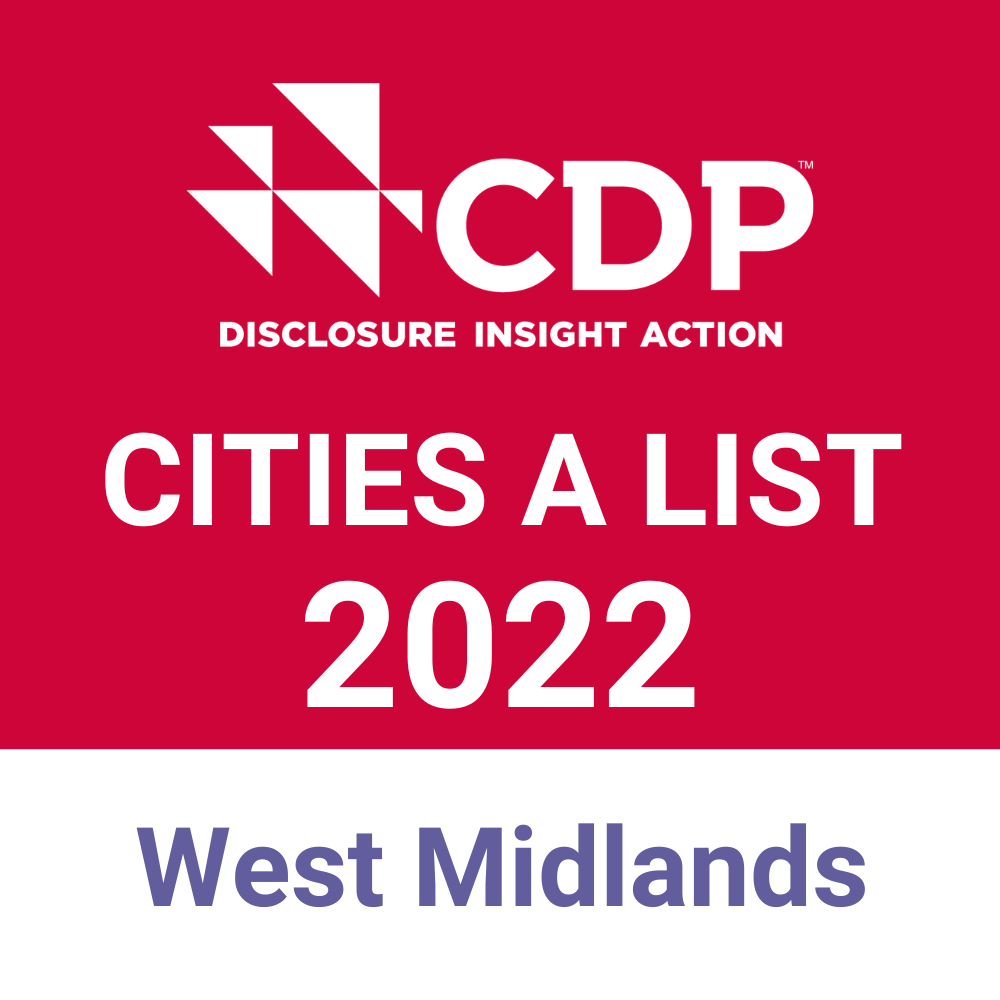 Designed to encourage and support cities to ramp up their climate action and ambition, CDP's Cities A List contenders must disclose their environmental data publicly and have a city-wide emissions inventory.  
They must have also published a climate action plan, completed a climate risk and vulnerability assessment and have a climate adaptation plan to demonstrate how they will tackle climate hazards.
Many A List cities are also taking a variety of other leadership actions, including political commitment from their Mayor to tackle climate change. 
The announcement came as Chris Skidmore MP visited the region as part of his national review of the UK's net zero targets and plans on behalf of the government: hearing how the region intends to build on its climate change action by seeking greater powers from central government and meeting business representatives from leading Black Country companies to discuss their decarbonisation challenges.  
Andy Street, Mayor of the West Midlands and WMCA Chair, said: "I'm pleased that the WMCA has been awarded an A grade on a reputed international list of regions demonstrating leadership on climate change.
"Initiatives like our ambitious #WM2041 net zero commitment, our plans to retrofit old and cold homes with the latest fuel saving technology, our Virtual Forest which has seen more than 200,000 trees planted and the billions being spent to expand and decarbonise our public transport system are being rightly recognised.
"As we seek to tackle the climate emergency, we will continue to play our part in protecting the environment and driving forward the Green Industrial Revolution in order to ensure a positive legacy for future generations."
CDP, which is an international non-profit organisation, publishes its A List each year to celebrate city regions that take urgent and impactful climate action - from ambitious emissions reduction targets to building resilience against climate change.
The list is aimed at showing what is achievable at a global level, and in cities with different climate realities and priorities. But CDP says this action needs to go further and faster.
Cllr Ian Courts, WMCA portfolio lead for Environment, Energy & HS2 and leader of Solihull Council, said; "As the home of the UK's Green Industrial Revolution, I'm delighted the WMCA has been recognised as an exemplar region in leading the fight against climate change. Working closely with all of the constituent local authorities, we recognised the urgency of the climate situation early on with our net zero target now less than 20 years away.
"Making CDP's A List builds on the momentum of the WMCA being ranked earlier this year as the top performing combined authority in the UK when it comes to having a robust climate change plan in place. Awards and accreditations help to inspire further climate initiatives and ensure they meet a certain quality. Just recently we launched the inaugural Natural Environment Awards which recognises the excellence of those protecting, restoring and enhancing the West Midlands precious natural environment."
Contact the Media Team