Carbon Literacy Training
Page contents
Carbon Literacy Training
Introduction
The West Midlands Combined Authority and the Birmingham 2022 Commonwealth Games are pleased to offer this Carbon Literacy training to anyone across the West Midlands, as part of the Games' sustainability ambition to create a carbon neutral legacy for the region.
The Carbon Literacy training has been developed to empower you to make a positive impact on climate change and help to influence others around you to drive action.
You'll learn about the science behind climate change, how it's affecting both the world and our region, how you can influence others to take action and what you can do personally.
On completion of the course and having successfully committed to carbon-reducing actions – you'll receive accreditation as formally Carbon Literate.
This is a well-recognised certificate, with the Carbon Literacy Project organisation being celebrated by the United Nations as a worldwide Transformative Action Programme.
No previous knowledge or experience is needed to take the course, and we would encourage you to go through each module at your own pace. Or you are welcome to just dip in and learn more about the parts that interest you the most!
As part of the training before you start the first module, please watch the David Attenborough documentary Climate Change – The Facts' for a good overview and start to the course.
Access the training
All the training modules are freely accessible, through WMCA's Learning Pool.
You will need to register to Learning Pool to access the training and for your progress to be saved.
Modules 1-3 are e-learning modules that you can go through at your own pace.
Once you've completed modules 1-3 you can book onto module 4, which shall be delivered over Zoom by volunteer trainers.
Book onto your module 4 session, which you must complete in order for your action plan to be sent to the Carbon Literacy Project for assessment.
If the Carbon Literacy Project approve your action plan, you shall be accredited as Carbon Literate and sent your certification.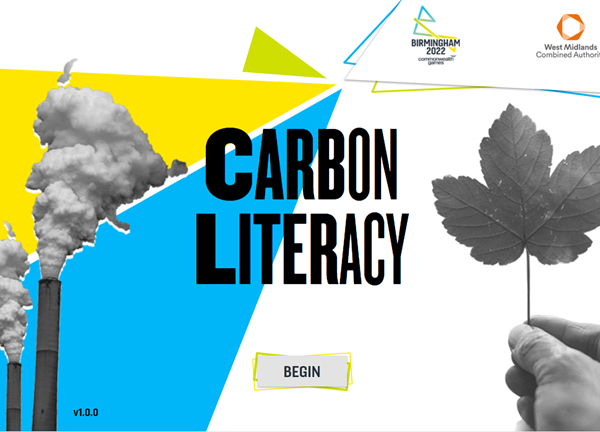 Access the training course here
Share your certificate online and tag West Midlands Combined Authority on Twitter and Linkedin as we would love to see all of you who become Carbon Literate!
Any questions, please email CWGCarbonLiteracy@wmca.org.uk
Why we support Carbon Literacy Action Day
Carbon Literacy Action Day will take place in December 2023 to mark the world's largest simultaneous climate action training event.
West Midlands Combined Authority runs training sessions supporting staff by giving them climate change knowledge needed to support the transition to net zero.
We're also supporting a Carbon Literacy training programme for the public as part of the legacy of the Birmingham 2022 Commonwealth Games.
We hear from Matt and Katie in our environment and net zero team about the training and why it is so important.