Digital
The West Midlands is a key national centre for the tech and digital sector
Tech and digital is the fifth largest sector in the West Midlands economy with nearly 14,000 tech and digital businesses in 2016, 5% of the national total and more than any other combined authority area in the country.
Birmingham is the UK's premier centre for the sector outside London with just under 3,000 tech and digital firms. There are also significant numbers of tech and digital firms in Warwick (more than 1,000), Solihull (more than 900), Stratford-on-Avon (nearly 700), Wolverhampton (nearly 600) and Telford (nearly 500).
Strong growth in digital employment opportunities is forecast over the next decade
Forecast GVA generated by tech and digital in the WMCA area will rise by £1.3 billion (20% or 2% per annum) from £5.7 billion to £7 billion, with the potential to rise to £7.9 billion.
Employment forecast to rise by nearly 14,000 from just over 70,000 to 84,000.
14,000 new jobs created (expansion demand) plus a further 27,000 due to staff turnover effects (replacement demand) predominantly in higher skilled, well paid roles.
91% in professional, associate professional and technical roles and almost all of new jobs will be in roles requiring a foundation, undergraduate or higher degree.
The West Midlands Combined Authority's vision is to support and grow a world-class digital workforce supporting the growth of our keys sectors driving innovation, uplifting productivity and creativity and improving the quality of peoples' lives.
"Digital is vital to the continued success of the West Midlands economy because it is the golden thread across all industries which will provide jobs in the twenty-first century." 
Andy Street, Mayor of the West Midlands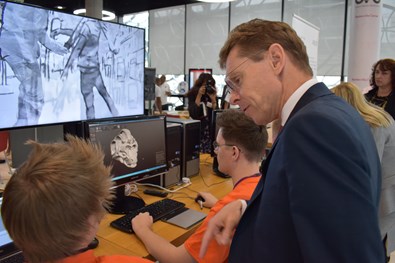 Whether you are looking for a career in the fastest growing sector or you're an employer looking for to find the best talent, the Digital Hub will give you all the information you need.

The West Midlands Digital Skills Partnership
The West Midlands Digital Skills Partnership launched in December 2018 brings together the region's leading tech employers, digital entrepreneurs, Local Enterprise Partnerships, the Department of Culture Media and Sport, as well as universities, colleges and other training providers.
This public-private partnership will help identify what digital skills provision is needed across the West Midlands and, importantly, encourage partners to work together to address these and emerging needs and to attract and retain investment and talent in the region.
The Digital Skills Partnership will oversee the development and delivery of the wider WMCA Digital Skills Strategy.
We aim to:
Address the widening digital skills gap and shortages impacting on the regions key sectors
Provide clarity about which skills are most needed and how best to address those gaps
Improve the digital provision across the region's FE colleges
Co-ordinate the and scale up the myriad of good digital skills initiatives across the region
Promote Digital Apprenticeships to employers across all sectors
Scale-up our successful boot camp model that gives people essential coding skills
Establishing employer-led partnerships to address digital skills gaps and develop skills action plans for each of our key sectors
Develop detailed understandings of the impact of new digital technologies on current and future skills needs
Join up with national activities to maximise impact in the region
To stay up to date with the latest news from the West Midlands Digital Skills Partnership sign up to our e-newsletter