Free Carbon Literacy training courses available following the success of Commonwealth Games
Published: Tuesday 30 Aug 2022
A free training course has been launched to help residents further understand the impacts of climate change and what actions they can take personally to help tackle it.
The training, a collaboration between the Birmingham 2022 Commonwealth Games, the West Midlands Combined Authority (WMCA and Department for Business, Energy and Industrial Strategy (BEIS), has been set up as part of the Games' wider sustainability ambition to create a carbon neutral legacy for the region.
In alignment with The Carbon Literacy Project, the training aims to empower individuals so they know what they can do differently to create a positive impact and also influence others to take action.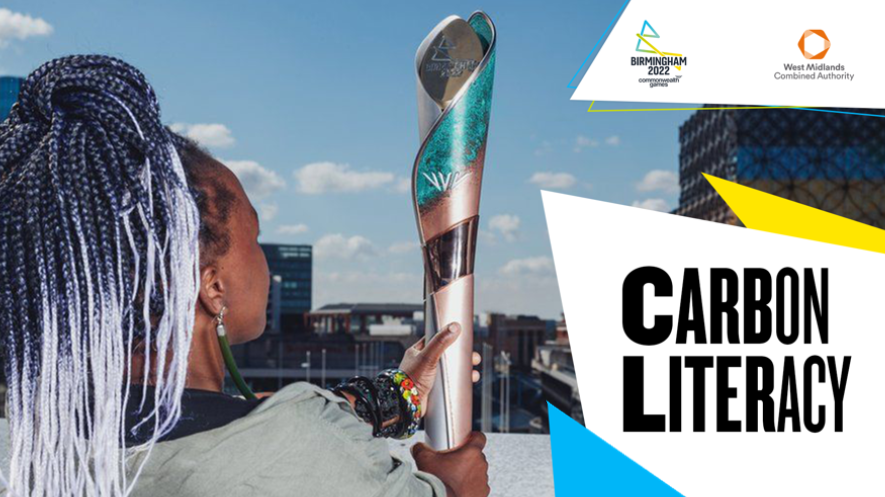 The course will be offered to all of the Birmingham 2022 volunteers but will also be made available to all West Midlands residents.
Andy Street, Mayor of the West Midlands and chair of the WMCA,, said: "After a successful Commonwealth Games with sustainability at its heart, it is important that we continue to work together right across our region to strive towards a carbon neutral legacy.
"Given our own #WM2041 net zero commitment, I'm pleased to hear that we're encouraging sign ups to our free Carbon Literacy course for Games volunteers and many others to take advantage of.
"By working together, we can further reduce our carbon footprint, inspire one another to make positive change and help tackle the climate emergency."
Jess Fidler, head of sustainability for Birmingham 2022, said: "Birmingham 2022 set an ambition to be the first Commonwealth Games to create a carbon neutral legacy, so educating and empowering people to understand more about this important topic is an important part of that legacy.
"Climate Change can be an overwhelming topic and informing yourself is such an important first step. The course covers the science behind climate change, how it affects both the world and our region and how you can influence others to drive action and what you can do personally."
Seven key pillars formed part of Birmingham 2022's sustainability pledge, with the first aimed at addressing carbon and air quality, with cleaner transport options among its plans.
The other pillars include:
Promoting a circular economy which encourages waste reduction
Delivering new conservation initiatives
Improving accessibility
Embedding equality, diversity and inclusion beyond the Games
Promoting social value through job growth and volunteering roles
Ensuring human rights are abided by all contractors and suppliers associated with Birmingham 2022.
Cllr Ian Courts, leader of Solihull Council and WMCA portfolio holder for environment and energy, said: "This Carbon Literacy training is such a good opportunity for the West Midlands to build upon the carbon neutral legacy of the Commonwealth Games.
"Many people want to do something good for the environment, but they often don't know how to make the most positive impact. This training means that residents of the West Midlands and volunteers of the Games can gain valuable knowledge and understanding on environment issues and reducing carbon impact, allowing them to incorporate positive actions on climate change into their everyday routines.
"I hope that many residents will sign up for this course and will in turn feel informed on climate change, as well as empowered to take positive sustainable action."
The course is spilt into four modules, the first three are self-led, e-learning modules with the fourth and final session being an online facilitated workshop.
Learners can complete these at their own pace, with no obligations. Those who successfully complete the course will receive accreditation from the Carbon Literacy Project as being fully Carbon Literate.
To find out more and register interest, please click here.
Contact the Media Team