Green light for region's ambitious net zero carbon plan with funding for new capital projects
Published: Friday 19 Mar 2021
An ambitious plan to put the West Midlands on track for net zero by 2041 was given the green light today (19 March).
The West Midlands Combined Authority (WMCA) board has agreed to back the first Five-Year Plan with investment of over £5million, helping to drastically cut emissions by retrofitting homes, expanding greenspace and creating thousands of new green jobs.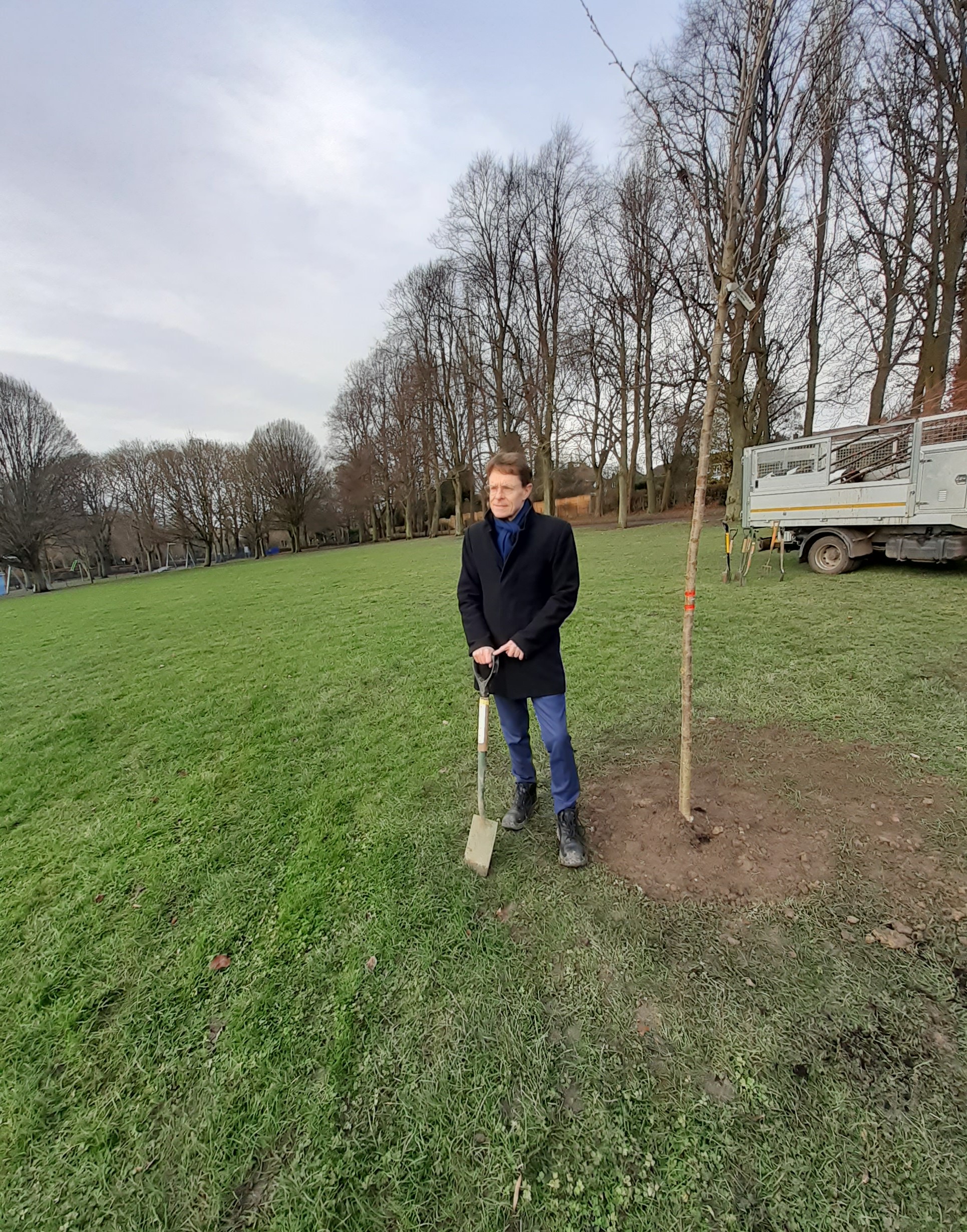 Andy Street, the Mayor of the West Midlands tree planting in Walsall Arboretum in 2020
Andy Street, the Mayor of the West Midlands, said: Today marks a significant step forward on our journey to net zero as we back our #WM2041 plan with investment in critical projects.
The funding unlocked today will allow local people to start regreening their own neighbourhoods, reintroducing that nature we've all craved during lockdown. We'll also be taking a new approach to net zero living, with a street-by-street approach to retrofitting and clean energy.
Taken together these schemes amount to a powerful climate package, setting us on our way to tackling the West Midlands' climate change emergency and reaching net zero by 2041
Watch video for more on the Five Year Plan
Today's approval will allow the WMCA to build on existing work to accelerate the region's push towards net zero by pioneering a Net Zero Neighbourhood concept, linking with plans to push forward the retrofitting of thousands of 'old and cold' homes to make them more energy efficient and helping to tackle fuel poverty in the process. This will complement the WMCA's Zero Carbon Homes Charter setting out how all new homes built in the region from 2025 onwards can be carbon free.
The approved plans will also launch a new Natural Capital Programme, creating a £1m Community Green Grants fund and bringing together existing initiatives around tree planting to create better access to green space for communities. This work will complement plans for the West Midlands National Park concept being championed by Birmingham City University and the WMCA.
On the roads, the plan shows that all the region's bus fleet will need to be upgraded to zero-emission vehicles, just as Coventry has committed to becoming an all-electric bus city by 2025. Twenty new hydrogen-powered double-deckers are being prepared to run on the new Sprint route from next year.
The detailed plan for the next five years outlines the actions needed to cut carbon emissions by around 33% by 2026, necessary to keep the region on course to meet its 2041 target and accelerate a green and inclusive economic recovery. The target will be tough to reach so the WMCA will be calling on everyone in the region to play their part. This could range from residents making small changes to their everyday lives to financial support from businesses and government. Significant investment will be required, approximately £4.3bn in the first five years and £15.4bn by 2041. One way in which the WMCA is encouraging this is with the Net Zero Business Pledge, launched earlier this week.
The plan was drawn up by independent consultants WSP who found that more than 21,000 new jobs could be created over the next five years, and 92,000 by 2041, mostly in new carbon cutting green industries and technologies. A proposed Green Skills Strategy will outline the support required to give local people the skills to work in new green industries.
Lily Eaves, member of the Young Combined Authority said: "The Young Combined Authority welcomes this five-year plan as it offers a comprehensive strategy for the reduction of carbon emissions and reflects our vision for housing, transport, and inclusive communities in the West Midlands.
Although the WM2041 target is ambitious, it is crucial that no one is left behind and it is inspiring to see a plan that has not only thoroughly considered how everyone can access the benefits of this plan but have gone one step further in setting up measures to ensure that people are advantaged throughout the coming years."
Presenting the Five Year Plan to the WMCA Board this morning Cllr Ian Courts, Leader of Solihull Council and WMCA portfolio lead for energy and environment, said: The production of this Five Year Plan, and our response to it, represents an important milestone in our drive to tackle climate change.
What I am hoping is that the 'journey to net zero' can increasingly be seen by all as a huge opportunity to be grasped, rather than just a problem or challenge to be overcome.
The investment announced today means that we can start pushing ahead with some of the physical interventions and further capitalise on the initiatives that we are already taking in transport, homes and woodlands planting that will enable our region move towards Net Zero.
We all know there is a crisis: but Climate Declarations are not enough - we need action and this is the start of our Action Plan detailing how we deliver it
Contact the Media Team